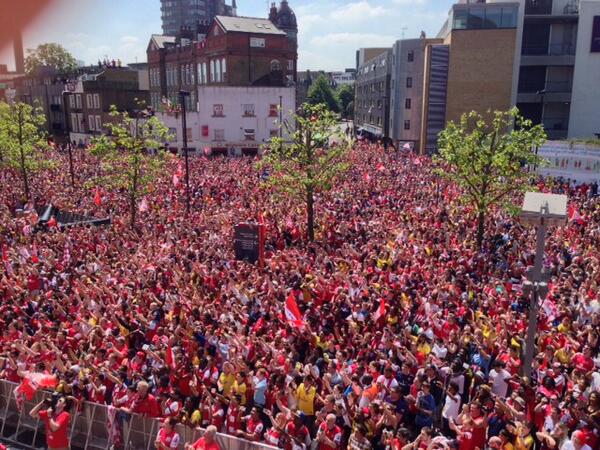 The blood rush that overwhelmed me when the drought came to an end; after two hours of a typical, dramatic, DNA reconfiguring match involving Arsenal, has finally began to loosen its grip on me… ever as slowly as Nwankwo Kanu in a sprint.
The FA Cup final closed the curtains on our 2013/14 football season, one peculiar in so many ways that resulted in a long and fascinating title race, then a shortlived race for fourth and finally, glory at Wembley.
From an Arsenal perspective, it was a season above average but admittedly better than many previous ones, majorly thanks to that heart-racing win over the Tigers of Hull and yet, in few other little bit ways.
The signing of Mesut Özil was a breaking good from (what I now hope WAS) the norm. The Economist actually shelled out forty-two million of the Queen's bucks on a footballer when he could have unraveled the four next-[King Henry the Only, Cesc, Judas, $amir etc etc] with all that money and still have a few coins to spare. Wenger, hmph!
The circumstances that led to Özil leaving the luxurious side of Madrid for the cautious wallet side of luxurious London were like a rare alignment of stars (not Galacticos) that would open a portal (usually not a good thing in Hollywood) of good fortunes for Arsenal.
Took him all of a dozen minutes to assist a goal, Olivier Giroud's first Premier League goal not scored in London too, and it seemed from then on that we would have a fairytale season where the scent of lavender was the air in a garden full of strawberries and what not.
Oh how we'd miss him if he ever got on the end of Shawcross and Cousins Inc. And indeed we did when he got sidelined, but it was no where equal to the depression we felt when Aaron Ramsey spent all that while helplessly watching the Arsenal get brutalised in west London, Merseyside and (even) Manchester from the sidelines.
Which is why it was perfection to have Ramsey score the goal that won the Cup, the goal that ended the drought, in a season he grew out of years of stouted development to becoming what he always has believed he would be.
Özil made things work while Ramsey, more importantly, delivered and in the end, both players respectively established and grew each self to be the life force of the club.
So while it is disappointing that we yet again finished in fourth place having led the league for more days than any other, there will be no tone of complaint from here this time around. Just hope.
Hope, that next season we would not have to do without Ramsey and Özil for so long as to watch our season derail during those bogey months. Hope, that we would have an ever maturing Theo Walcott available to deliver a directness only Ramsey came close to emulating this season.
Hope, that we do bring in the necessary calibre of players to complement the ones we have. Much as AKBs would love to make WOBs into ingrates who do not appreciate from where the club has come from, it is all about where we are headed and for Arsenal that should always be up. Always.
Hope, that WOBs and AKBs won't have a go at each other before and after matchdays as it seems more likely that Wenger would sign da ting. The Budweiser draping the FA Cup ought to have blurred the battle lines anyway eh? No? Maybe we'll go for some Heineken then. Blur those lines completely to history.
We finished just seven points off the league champions. Three wins (at home to Aston Villa, at home to [Moyes'!!!] Manchester United and away at just any one of [Moyes'!!!] Manchester United, Southampton, West Brom or Rugby City) and we would have done just enough to be champions; without even needing to win the big away games.
So yes, hope, that we win absolutely against all the 'small' clubs such that we could afford to toss the big days away like Chelsea do an entire squad of their players and some in loan deals (Hi Vitesse)… but just not in the reckless manner we did at three Blues and a Red or two.
Unlike previous seasons when hope had fragile, Diabytic feet going into another 'next season', hope's feet are now as assured as Mertesacker's anticipation and Arteta's hair because now, we know how to win a title again.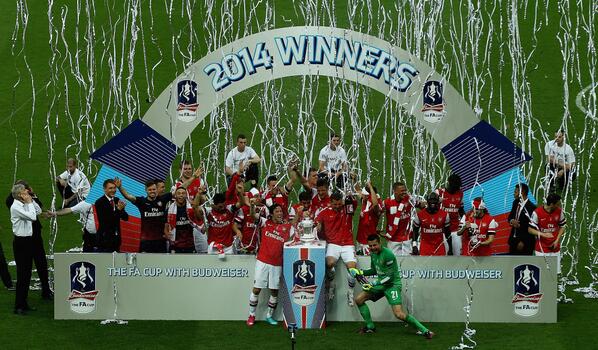 For now, thank you Wojciech Szczęsny, Łukasz Fabiasnki (and goodbye), Emiliano Viviano (and sorry, for… well), Bacary Sagna (and goodbye?), Carl Jenkinson, BFG, Kozza!, Thomas Vermaelen, Kieran Gibbs, Nacho Monreal, Lego, Kim K and Aaron James Ramsey!
Don't forget Vasiriki, ageless Mozart, Jack Wilshere (for THAT well-executed goal), Santi Cazorla (amazing free-kick), Ö, iPod, Signed da ting, Serge Gnabry, faithful French bloke, Yaya Sirnogoal and of course, Lord Bendtner!
It's been a season. And I'm proud to be a gooner!